photo from http://bulatlat.com/main/2009/08/11/national-artist-fiasco-%E2%80%98defiles%E2%80%99-culture-%E2%80%93-critics/
1. Hindi ke Imelda, hindi ke Mikey, na mga walang alam
HABANG sinusulat ko ito, in-progress na ang rally sa Cultural Center of the Philippines (CCP) o National Commission for Culture and the Arts (NCCA) kontra sa pagdeklara kina Carlo Caparas, na isang direktor ng mga tasteless na "massacre films" lang naman daw, at NCCA director Cecile Guidote-Alvarez, na nag-organize lang naman daw ng Philippine Educational Theater Association (na nagpatalsik din naman daw sa kanya) at ng mga safe art para sa sponsorship ng NCCA.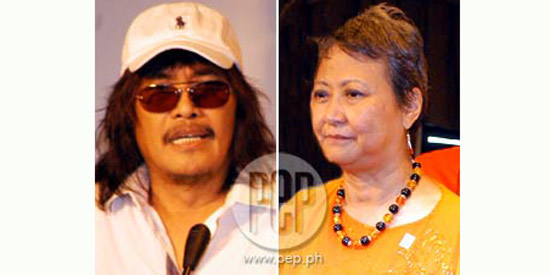 photo inserted 2013, borrowed from
http://www.pep.ph/news/39909/supreme-court-clarifies-stand-on-nullification-of-national-artist-awards-says-caparas-et-al-may-still-seek-title
Tama. Dapat talaga ang nasyon ang pumipili ng nasyon-al artist nila, hindi si Imelda Marcos (na nagpatayo ng CCP) na hindi alam ang gusto ng tao, hindi rin ang aktor na si Mikey Arroyo na walang alam kundi ang gusto ng kanyang mga tao. Kaya nung sinulat ng kolumnistang si Conrado de Quiros na
siya'y tila natawa
noong ideklara ni Gloria Macapagal-Arroyo ang national days of mourning para kay Cory Aquino---dahil hindi raw kailangan ng deklarasyon ng Malakanyang para magluksa ang bayan sa pagkamatay ng kanilang minahal---naisip kong ganun din dapat ang ating lohika pagdating sa mga paboritong artist ng ating nasyon (inanunsyo ang pagkapanalo ni Caparas at Alvarez isang araw lang bago namatay si Aquino): dapat walang dekla-deklarasyon. Ang artist na nasyonal ay nasyonal na artist, period.
One of Caparas' "massacre films" [photo from
https://www.facebook.com/108377235916862/photos/a.124042927683626.32695.108377235916862/124043224350263/?type=3&theater]
Parang Grammy Award sa Amerika, nakakatawa. Although hindi aaminin ng NARAS, hindi ka qualified sa isang Grammy plum kung di ka umabot sa certain number of records sold, lalo kung di ka pop-market friendly. Kung ganun, ibig sabihin ihohonor ka ng peers mo kung hinonor ka na ng tao. Ba't pa kailangang ihonor ka ng peers? Ngunit buti pa ang Grammy me primary sa tao bago umabot sa parlyamento ng mga taga-recording industry. Ang masaklap nga lang para sa mga ayaw ke Caparas, dito---kung saan ang magandang edukasyon sa arts ay binibigay sa mayayaman lamang---ay talagang si Caparas ang siyang magugustuhan ng tao kumpara sa mga Brillante Mendoza dyan sa sulok kung magbobotohan ang tao. Kung ganun, ibig ba sabihin ang Malakanyang ay nagpakamasa na rin sa pagpili ke Caparas?
Kung ganun, sana sinagad na ng Palasyo. Sa theater, halimbawa, ang popular sa tao na si . . . Imelda. Di ba? Di hamak na mas magaling siyang artista kesa ke . . . she could easily shed a tear after an "I . . am . . . sorry," even though we never heard her say anything like that. In short, sa pag-arte siya'y kumbinsing; kumbaga, gustong-gusto ng madla at maaaring manalo uli sa Leyte kung gugustuhing tumakbo. National artist ka ng masa, madam! Isantabi mo na yang delicadesa at tanggapin mo, kahit ang asawa mo ang nagsimula ng lahat ng 'to! Ikaw rin for architecture, for giving us the leaning tower called the Manila Film Center that the nation never got to use!! (Sino pa ba ang mga mahilig magmanipula sa kung ano dapat ang hitsura ng sining at kultura natin, sino? Awardan natin!)
2. Ang artist ng mga walang alam sa aming barangay
YEHEY! Sabi ng iba, mamamatay na raw ang National Artist of the Philippines title awards! Salamat naman! Dagdag lang sa gastos ng taxpayer yang stipend sa mga artist na yan na hindi naman namin kilala dito sa aming barangay!
Nasa kalsada ako kanina and made a sort of barangay survey and, guess what, Caparas won hands down as the artist of the people of our barangay's street over Brillante Mendoza, Lav Diaz, Jeffrey Jeturian (Kubrador), Raya Martin (Independencia; Manila), Raymond Red (Sakay), even over the veteran directors Maryo J. de los Reyes (Magnifico) and Carlos Siguion-Reyna (Ang Lalaki sa Buhay ni Selya; Ligaya ang Itawag Mo Sa Akin). Caparas is an artist of the people, thus of the nation, no doubt about that, in the same way that Jinggoy Estrada would be the preferred statesman to this nation over somebody like the late Raul Roco. This nation may not be the nation the intelligentsia would rather see, but let's face it---this is the monster we helped create. By standing by and allowing our 20th-century governments to design an elitist education system so that we can enjoy our neighbors' stare of envy when the elite school's bus stops in front of our gates, we helped create that culture wherein Mikey Arroyo's movies would be the nation's preferred entry pick for the Cannes Film Festival. Compare this to the German public's regard for Werner Herzog or Japan's for Jūzō Itami and others. . . . But having said that, I'm signing up in the petition to withdraw Caparas' award. How come?
Perhaps because waiting for the perfect would make me an enemy of the good. And a lot of the artists marching presently are good artists. And Caparas movies are ba-a-a-a-a-a-d.
3. We're paying for their stipend, di niyo ba alam?
BUT for the long term, I declare that this National Artist crap is really crap because a waste of tax money. It's either we hear a National Artist conferment on somebody the nation of academics loves but whom the lumpen nation has never even heard of, or on a maker of grindhouse films for double features back-to-back with '60s soft porn films for a dingy moviehouse under a Manila Light Rail Transit System structure for a nation of fools, or on an NCCA-based promoter of safe art.
But then again, ladies and gentlemen, can't we agree that SAFE ART IS THE NATIONAL ART?? Mabuhay ang national safe-art artists we all deserve!!
Then again, a National Artist cannot be declared, didn't we argue that already? Again, a national artist just is, period. Jaroslav Seifert became Czechoslovakia's national poet without anybody declaring him so. Pablo Neruda to Chileans and even Argentinians, same.
Also, a multicultural nation cannot have a national artist, let alone a National Artist, but only niche artists. Why do we even have this illusion that we are a nation? Blog writers and their readers debating on Facebook is more of a nation now than the passengers on the Manila Metro Rail Transit System on a rush hour morning. National Artists, my ass. National Artists, my ass on a moviehouse toilet bowl full of phlegm and janitors' feces!
4. Kanino ba ang nasyon? Hindi niyo alam?
MY favorite artists need not be national artists. Why should Gloria Arroyo's favorite filmmaker and safe art organizer be our favorites, too? Is she a Queen Elizabeth conferring her blessings on her Shakespeare? Many would not even call her their president.